Migadget.id – Kami ada rekomendasi jam tangan Amazfit murah. Rata-rata jam tangan Amazfit Malang di atas Rp 1 juta. Tapi ada juga smartwatch Amazfit murah Rp 500 ribuan.
Harga murah belum tentu kualitasnya juga murahan. Kami rasa smartwatch Amazfit murah karena sesuai dengan target pasar.
Oh iya, smartwatch Amazfit ini bisa untuk hadiah orang tersayang. Jika kamu peduli dengan kesehatan dia, salah satunya dengan memberikan smartwatch Amazfit.
Alasannya smartwatch ini mempunyai berbagai sensor kesehatan. Bahkan pengguna akan diingatkan untuk berdiri, mengambil napas, mengetahui detak jantung, tingkat stres, hingga oksigen dalam darah.
Baca juga: Amazfit Falcon Smartwatch 20ATM Bisa Menyelam
Jadi, kesehatan tubuhmu bisa dipantau dengan baik. Apabila kamu merasa pusing sekali, mungkin tensi darah kamu sedang tinggi.
Kondisi seperti ini bisa diketahui dari jam tangan Amazfit. Kamu juga bisa olahraga lebih rutin, karena smartwatch Amazfit bisa menghitung langkah kaki, bakar kalori, dan lain-lain.
Intinya, Anda yang ingin sehat berarti harus memperhatikan kondisi tubuh setiap hari. Cara terbaik dengan bantuan smartwatch Amazfit tadi.
Jam Tangan Amazfit Murah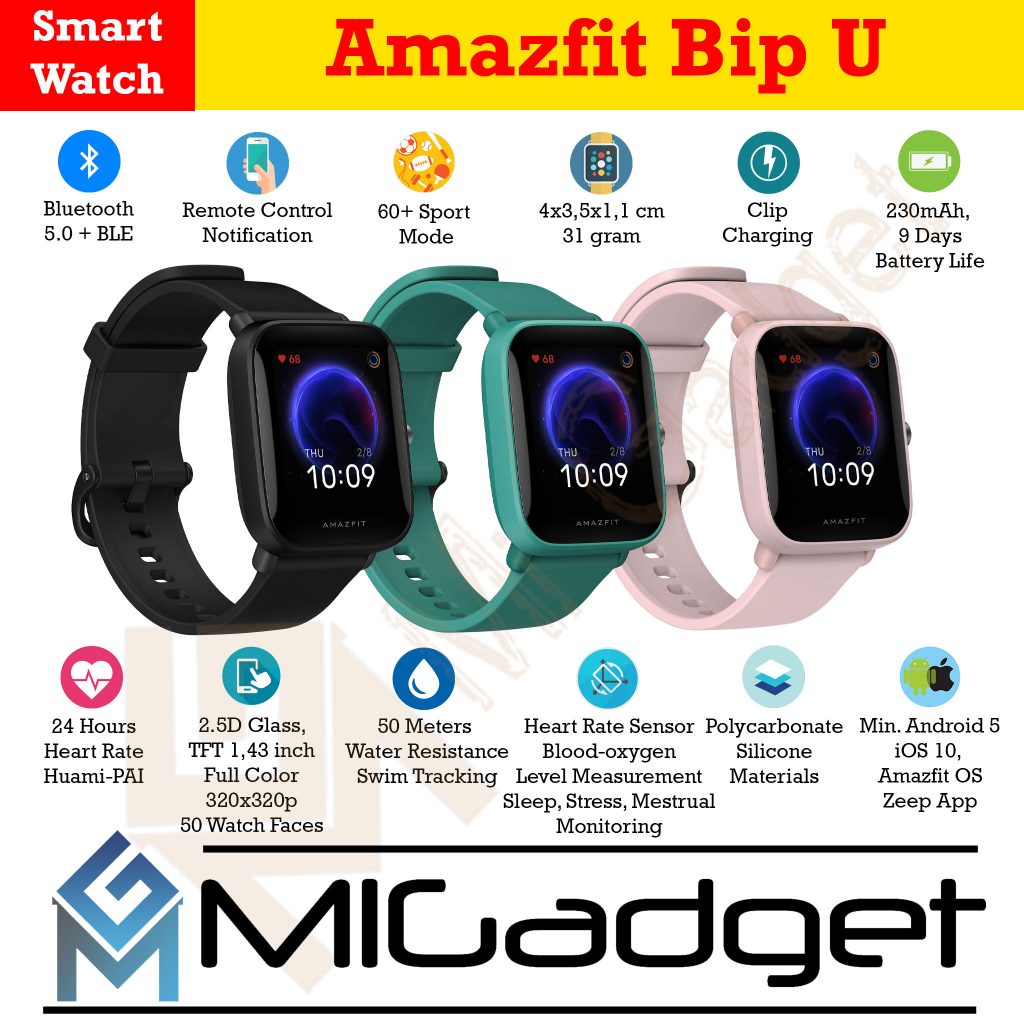 Spesifikasi Amazfit Bip U
Dimensi : 40.9 x 35.5 x 11.4mm
Berat : 31g (dengan tali)
Body Material : Polikarbonat
Body Strap : Silikon
Panjang tali: 118mm (versi panjang), 76mm (versi pendek)
Lebar tali : 20mm
Waterproof (Tahan Kedalaman) : 25 ATM / 50 meter
Display : TFT Full Color 1,43 ", resolusi 320x302p
Layar sentuh : kaca 2.5D + lapisan anti-sidik jari
Sensor Optik Biologis BioTracker ™ 2 PPG
Sensor akselerasi
Sensor giroskop
Sensor geomagnetik (khusus Amazfit Bip U Pro)
Bluetooth : BT5.0 / BLE
Baterai : Baterai polimer lithium-ion 230mAh
Waktu pengisian : Sekitar 2 jam
Perangkat yang didukung: Android 5.0 atau iOS 10.0 dan yang lebih baru.
60+ Mode Olahraga dengan GPS presisi tinggi 3 (khusus Amazfit Bip U Pro)
Pengukuran tingkat oksigen dalam darah SpO2
Pemantauan kualitas tidur
Pelacakan detak jantung 24 jam
Sistem penilaian kesehatan PAI ™9
Pemantauan tingkat stres
Latihan pernapasan untuk mengatur tingkat stres
Pelacak siklus menstruasi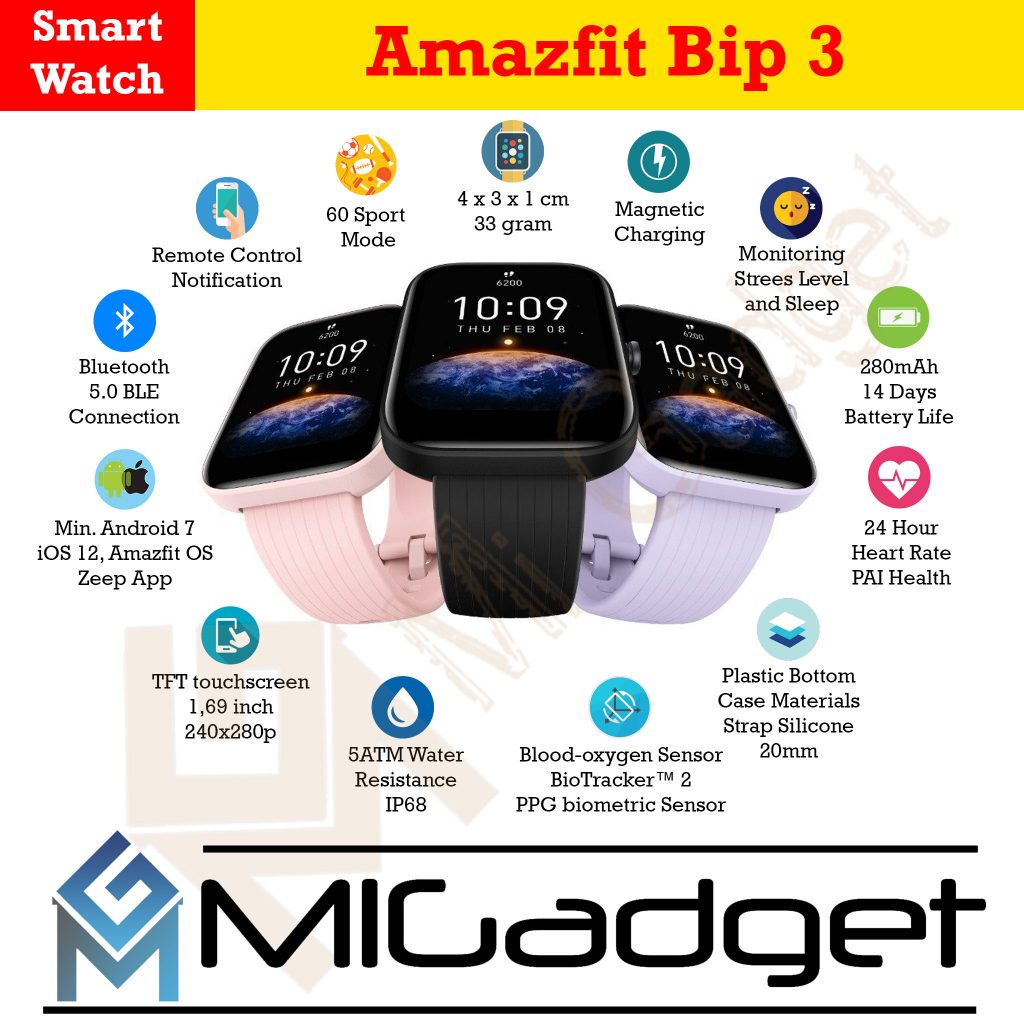 Specification
Design
Dimensions: 44.12×36.49×9.65mm
Weight (without strap): 33g
Body Material: Plastic bottom case
Buttons: 1
Water-resistance Grade: 5 ATM
Display
Material: TFT touchscreen
Size: 1.69″
Resolution: 240×280
PPI: 218
Touchscreen: 2.5D tempered glass + anti-fingerprint coating
Sensors
Health: BioTracker™ 2 PPG biometric sensor (supports blood-oxygen)
Movement: 3-axis acceleration sensor
Connection; Bluetooth 5.0 BLE
Battery
Battery Capacity: 280 mAh (rated value)
Charging Method: Magnetic charging cable
Theoretical Charging Duration: Approx. 2 hours
Typical Usage Scenario Battery Life: Up to 14 days
Heavy Usage Scenario Battery Life: Up to 7 days
Sports Features
Sports Modes: 60
Running Support: Target Pace
Health Features
24H Monitoring: Heart rate Stress level
Manual Measurement: Heart rate, Blood-oxygen saturation, Stress level
Sleep Quality Monitoring: Sleep stages (including REM), Daytime naps, Sleep breathing quality, Sleep score
Health Assessment System: PAI
Breathing Exercise: Support
Menstrual Cycle Tracking: Support
Health reminders: Abnormally high heart rate
Harga Jam Tangan Amazfit
Seperti yang kami sampaikan di atas, bahwa harga jam tangan Amazfit ini Rp 500 ribuan saja.
Amazfit Bip U = Rp 519.000
Amazfit Bip 3 = Rp 599.000
Beli jam tangan Amazfit di Malang bisa langsung ke toko Mi Gadget Showroom lantai bawah. Anda bisa mencoba jam Amazfit di sana.
Alamat Mi Gadget Showroom: Jalan Sigura-Gura 25C-D, Sumbersari, Kec. Lowokwaru, Kota Malang, Jawa Timur 65145. Chat kami di nomor WhatsApp 087800066464.
Yang jelas, dua smartwatch Amazfit ini sudah cukup bagus untuk memantau kesehatan kita dan mendukung olahraga kita.